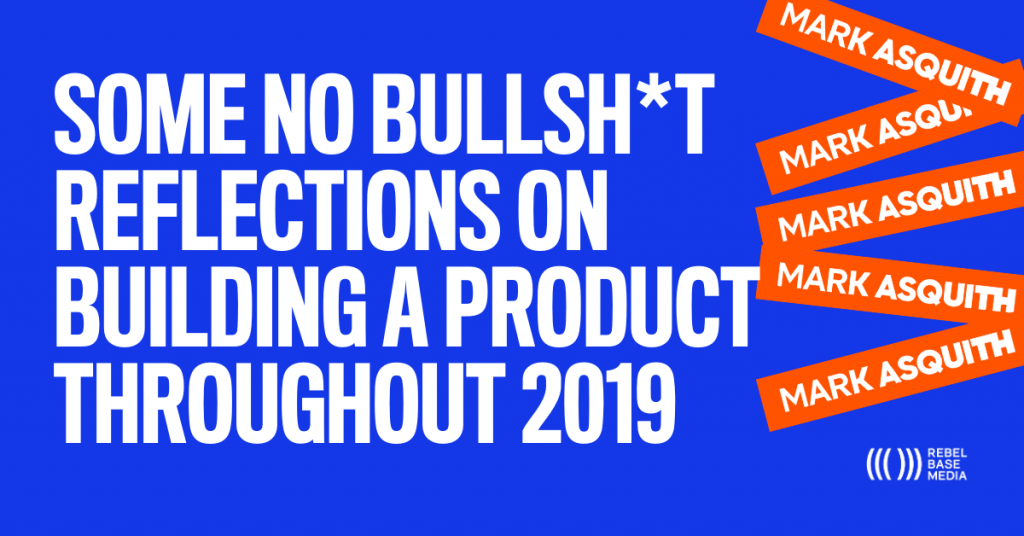 Some No Bullsh*t Reflections on Building a Product in 2019
Most of my writing, heck, most of my content these days is in or around podcasting. But now and then I fire up my blog here on the site and, just like David Brent, come at things from a different angle.
Today is one such day.
As CEO of Rebel Base Media, 2019 was huge. In late 2018 we announced a 15-month repositioning of the company to bring our original product Podcast Websites under the same roof as our newer endeavours such as Captivate, Poductivity, Podcast Success Academy and our podcast recording studio & podcast consulting services.
This was no mean feat and as we near the end of that process – a process that has gone so exceptionally well thanks to planning and diligent sticking to our vision – I can begin to reflect on it and what the next few years hold.
I'll be writing up a Rebel Base Media round-up blog post as we ramp up to Podcast Websites v3, implement our Captivate roadmap throughout 2020 and unleash Poductivity into the wild in a very surprising way but I've been pondering this blog post for a while, too.
This isn't a Rebel Base Media post – this is a "Mark" post. This is about the reality of being a founder throughout 2019 in an industry that is changing rapidly and as a person with a very specific type of personality.
On Vision
People called me mad when I told them the plan for Rebel Base Media:
I want to run a group company that sounds cool as f*ck and that has an eco-system of products and services that serves podcasters without the condescending brand attitude of the incumbents and that builds things that podcasters intuitively know how to use and didn't know they even needed.
The core of this is the fact that I'm a podcaster myself and that I speak to hundreds of other podcasters every single day.
The difference is that I trust my gut and we decided to build Captivate based on my gut and Kieran and I's bullish "try it" nature.
And so, we built something that we wanted.
When it comes to vision, you can't back down if you believe it enough. If you can see a logical path to where you want to be, you must follow it and forget everyone else – competitors, people around you who don't buy into that vision – get them out of your hair ASAP and start doing the work.
Because the thing is, vision isn't a today or tomorrow thing.
My vision has taken a few years to become visible to the rest of the world – a vision that includes Kieran and me as owners of the group company with a product lead and an independent team running each brand, plus an overarching customer experience team that connects the customers to each brand and each other.
And now that vision is real, it's clear to the outside world what has happened. To quote a friend of mine and an online entrepreneur that you would absolutely know:
Dude, this is amazing. You've built the Marvel Universe of podcasting.
Correct. But everyone, except those closest to me, told me not to.
Trust your gut. Follow your vision. And if something doesn't excite you, let it go.
And you know what, just keep your head down and keep doing your thing.
On Your Team
Following your vision is a great sentiment but it's just bullsh*t fluff unless you can implement it.
To do that, you need a team around you that believes in your vision. I'm lucky to have Kieran as my co-founder, a co-founder who lets me run amok with ideas and who creates his own ideas to counter mine; a co-founder who isn't afraid to call bullsh*t; a co-founder who has the same work ethic as me and who sees things through a progressive lens.
Your co-founder is vital but as you grow, you need more than that.
You have to spend time building the right team, hiring slowly and firing quickly when things aren't right.
You have a responsibility to communicate the vision to your team every single day. Your team aren't people who just turn up to do a job and get paid (if they are, get rid of them), they should each be the very, very best at what they do and each role in your startup should completely deliver on what it needs to contribute to the business – as a leader you have to lead from the front and to do that, you have to be willing to get your hands dirty and understand intricately exactly what each person needs, wants, creates and delivers within your business every day.
That is hard. Because you have your own "job" to do, too.
But we're nothing without other people, so put them first and watch as things start to happen that you never thought would.
On Burnout
Kieran and I built and launched Captivate pretty much just the two of us.
It took longer days and more stress than either of us have ever been through and we both came this close to burning out.
But, we'd do it all again. Ha, we probably will do it all again at some point.
The truth is that you CAN run and build a business on 40 hours per week but the fact of the matter is simple: when you love what you're building, you don't want to work 40 hours – you're going to work 70 and no one can stop you.
Of course, you must keep harmony in your life by always putting people first, but don't let anyone make you feel bad about working those 70 hour weeks whilst you build your product, whether online or offline, you get your head down and you f*cking build that thing you love.
And you know what, get your product out into the wild way earlier than you think you should.
Get real users into an alpha or beta programme, make some noise and tease tease tease the market.
We launched Captivate that way and wow, it's hitting revenue targets months in advance of what we'd projected.
There are going to be days that you hate what you're working on. Tough sh*t. You chose this, get on with it.
But on the flip side of it, when you're not working you need to make damned sure that you're not working. There is no work/life balance if you have the founder mentality – there is only harmony: two sides co-existing and taking from you what each of them needs when they need it.
Embrace that and you're going to build something special.
On Customer Experience
The customer isn't always right. Simple as that.
Your job isn't to bend to every customer's whim, it's to protect the brand you've built and importantly, to work with the people that you want to work with.
If someone kicks, screams and threatens to "write a review if you don't give me what I want", they aren't the right person for your business and all you need to do is politely remind them that they have other people that they can work with.
Life is way too short to be worrying about people who believe that they own your day or that, when there's a problem, passively-aggressively tell you that "This has landed on my launch day".
Funny, it's always launch day for those people, isn't it?
Having said that, do remember that you have to treat everyone with respect and give everyone the time of day that they deserve. No one should get special treatment, not "influencers" or "big names" – the right types of those kinds of people will gravitate to you based on your personality and how you run your brand, and if they want a free meal they can eat elsewhere.
Finally, protect your team: if someone is talking to one of your team in a way that they wouldn't expect to be spoken to themselves then you must be willing to step in, put an arm around that team member and let the offending person know that you act as one and, to paraphrase Rocky Balboa, "you pushed them, why don't you try pushing me, now?".
Please, do not mistake that for being a dick.
Always approach every conversation positively, optimistically and give everyone the respect that they deserve – remember, without your customers your business doesn't exist.
But with the wrong customers, your life doesn't exist.
Look after people as you would expect to be looked after, but respect yourself and know where your boundaries are.
I'm thankful for everyone who helped me last year and grateful for my team – they are the best in the world.
Laters.
Learn podcasting
in your own time
Listen to the
free podcast
The free, thrice-weekly show that brings you podcast education, industry insights & straight-talking reactions to podcasting news. This short-form show typically runs for between 7 and 15 minutes and releases every Monday, Wednesday and Friday. Usually a solo show, every now and then, the show features expert podcast industry guests and release bonus episodes as the podcast industry continues to grow and develop.