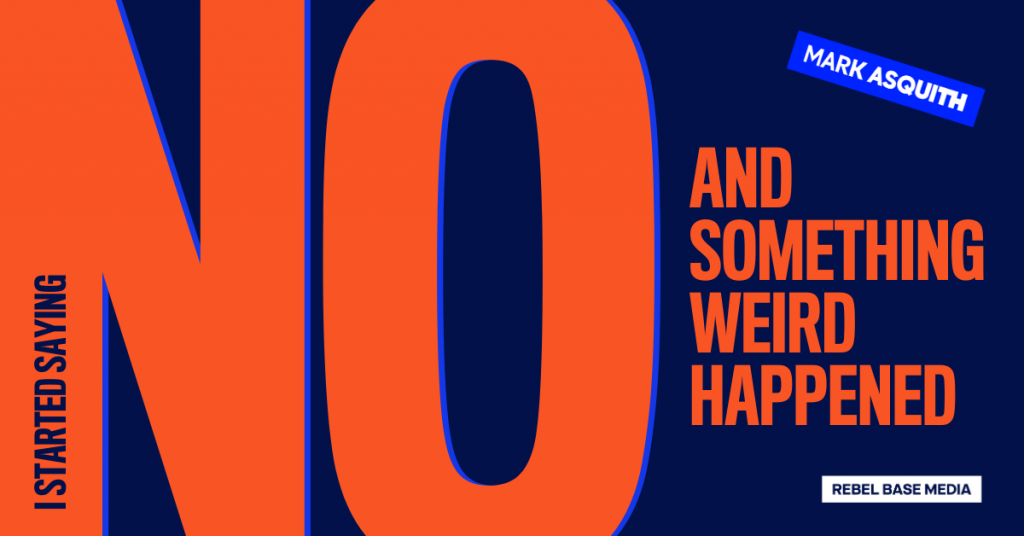 I Started Saying "No", and Something Weird Happened
Running a business is tough at the best of times. The "entrepreneur" lifestyle that is often touted online is largely BS at any real scale and the sheer pressure that you put on yourself as a creator is far greater than any pressure that anyone else could put on you.
We live in this world of online "entrepreneurs", most of which see no real uptick in revenue year-on-year and are running what are frankly lifestyle businesses.
There's nothing wrong with that at all.
But, there's no sense pretending that we're anything other than small business owners until we're turning over $35m+ per annum and so, when we reframe our mindset from being an "entrepreneur" to being simply someone that runs a small business, we start to see things differently.
The world of online "entrepreneurship" (read: create content, build a list, sell affiliate stuff – usually) teaches many of us that the only way to build a business is through interpersonal networking and relationships – we're told that "adding value" is vital, every single day.
It's the top-level, macro spiel that "coaches" sell to people new to building a business and that blows their minds because they've always been taught to trade time for money and, when told that there may be another way to make a living, think that it is a brand new concept that has just been invented.
And again, there's nothing wrong with that – I don't mean to sound flippant about it but being honest, most "coaches" and "online gurus" take new "entrepreneurs" far enough to make it feel like they've made a difference to that person but not far enough to make anything really scalable or long-term.
Why?
Because these "coaches" and "online gurus" do "online entrepreneurship" so that they can sell the dream of "working smarter not harder" and "work less, earn more" – when it gets hard for someone they're coaching, they're usually out – because that's exactly why they don't get their hands dirty: it's hard and they want that Instagram lifestyle – they chose an "online entrepreneur" career that looks great on paper but must feel like an empty shell crying out for some real satisfaction from actually creating something with legacy.
Why do I say this?
It's not to throw shade at "online entrepreneurs" – there's a place for that and there is absolutely nothing wrong with that lifestyle at all.
But, it comes with a duty to set realistic expectations.
And one of those expectations is that you need to be guesting on 5,000 podcasts per week; you need to be networking until the cows come home; doing virtual this-that-and-the-other to "get your name out there as the expert" – GREAT stuff, valid tactics and proven to work.
To a point.
Find an "entrepreneur" you like online. Look at their earnings or content – have they changed it much over the last few years?
Nope – because it works. But it doesn't scale very well.
In fact, in any other business if revenue didn't increase year on year, and markedly so, it would be a red flag – yet for "online entrepreneurs", making a living that doesn't really markedly grow is acceptable, because it's their choice – but it's not a business that scales.
This is where problems begin.
Their businesses aren't intended to scale, they're intended to fund a lifestyle – that's it. Those who do want to scale, well, they diversify – they head into software or product, etc…
I speak to podcasters every day. Most of them end up being business people as a by-product of someone asking to sponsor their show or buy something from them – merch, whatever.
And they try to scale that business using the same "be everywhere" tactics that work when you're starting out.
And the same people teaching them "be everywhere", "do marketing", "produce content every day" are also teaching them "there's nothing more powerful in business than saying no" – and thus, said podcaster or new business person feels like whatever they do, it simply isn't enough.
How could it ever be?
"There's nothing more powerful in business than saying no" is a great motivational thing that fires you up at a conference or over a Zoom call and then when hitting your coach up for advice on why your growth has stopped, gets entirely undone by "Well, you need to do MORE!".
I see this every day – people asking me why they feel that they're never doing enough – and these are people paying "gurus" for coaching which amounts to simple, high-level macro advice.
Now, as a SaaS founder, I've been thinking hard on this. What are the mirrors that I see in my day-to-day life and how do they map to not just podcasters, but small business owners everywhere.
The fact of the matter is this: you HAVE to start saying no to things, but without knowing how else to achieve something, you daren't say no because you don't know what else to do.
For example – if you're a podcaster or a small business owner and all of your success has come through doing face-to-face networking or online, perhaps even podcast guest based, network marketing – you know that doesn't scale well and you know that deep down you need to be taking the elements of that tactic that serve you well (i.e. expanding your network, proving you're there to help, etc) and finding a way to scale it.
But you haven't learned that yet. You didn't get into business to be a marketer and heck, no one told you that as a content creator you'd have to learn at least some digital marketing.
That's the reality of it – we're now all marketers. We have to be. But the "online gurus" aren't teaching that – because it's too hard, marketing moves too quickly and they do not want to be held accountable for giving you advice that might not work.
So everything becomes a "you could do this but you know, it really depends".
The fact is: the podcaster; the business owner; the accountant – all of us – we're all marketers now.
Marketing is hard. Sure, your "coach" will talk to you about top-level ideas but they're largely not interested in getting into the weeds with you – because that's actual work.
I've been a marketer for years, now. I studied it and I built businesses around it.
But, since entering the podcasting space in 2014 with Podcast Websites, I've been more of a founder and CEO than a marketer. It's only recently that I've really gotten back to it at a day-to-day level.
Flash forward to 2020 and the growth that we've seen with Captivate – the one thing that I brought to the table over and above all else was focussing on the ONE thing that would push the bottom line up – marketing.
In particular, very deep tactical marketing that underpins our wider product & marketing strategies – aka turning the fancy spreadsheets that we use to project our product's growth into a tangible reality.
The problem with that, though, is that to focus on the high-impact tasks that move the needle for Captivate, I had to say "no" to so much.
Podcasting is growing at an insane pace right now and everyone has a startup in the space. That means that the demand for "quick chats to talk through our product" has skyrocketed – everyone wants to talk to hosts like Captivate about integration or partnership or collabs, and so on.
And that is amazing. It's the lifeblood of business. But there's a tipping point – a point where the "feel good" work like the Zoom calls and the exciting chats about potential partnerships starts to take time away from the old school, proven things: marketing and sales.
A balance must be struck and that starts with "no" – but in order to say "no", you must have something else to say "yes" to!
If not, the growth you've seen will stop quite literally overnight.
As a podcaster, a creator, a small business owner – whatever you are – if you feel worried that by saying no, things will start to stagnate, that's a really great sign that you need to begin to upskill yourself in order to be able to say yes to things that you can control.
There's no shame in slowing down and looking at what really works. There's no shame in making sure that you dedicate time to the right things at the right time.
Protect your time, it's the only thing that you'll constantly be able to invest into whatever it is that you love – but when you invest that time and when you begin to say "no" to the low impact tasks, make sure that you're replacing those tasks with "yes"'s that make a difference.
And get a coach that wants to get their hands dirty with you, please.
Learn podcasting
in your own time
Listen to the
free podcast
The free, thrice-weekly show that brings you podcast education, industry insights & straight-talking reactions to podcasting news. This short-form show typically runs for between 7 and 15 minutes and releases every Monday, Wednesday and Friday. Usually a solo show, every now and then, the show features expert podcast industry guests and release bonus episodes as the podcast industry continues to grow and develop.