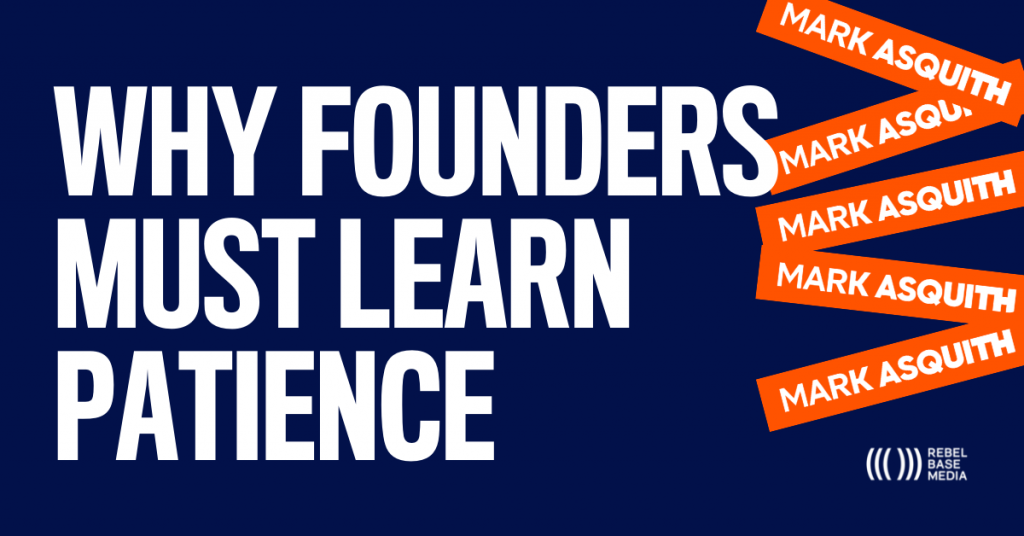 Why Founders Must Learn Patience
People constantly ask me how I get so much done, especially as the co-founder of Rebel Base Media where we oversee several podcast tech products and teams.
The honest answer is that my brain never stops and each product and team that we have built in podcasting has come from my brain working overtime and then my brother-in-business, Kieran, working with me to implement the vision that began in late 2014.
It's taken years.
And that is the problem. Or at least that is what I perceived the problem to be. I always, always want to move fast – so much so that my friend Ky (who designs all of our brands) pulls my leg often about my impatience.
As a founder, there must be an air of urgency. You must strike whilst the iron is hot and act whilst other people are simply talking about acting.
But, there's an art that takes practice when it comes to knowing what to act upon and when, which has taken me a long time to come even close to mastering.
Patience is key and executing to a high enough standard is vital. It is impossible to move quickly in all directions and execute well. Rather, as founders we must act quickly in one direction and execute well within that sphere, maintaining the patience required to execute the other ideas that so readily appear in our minds every single day.
Founders generally never tire of ideas and that's amazing and terrifying in equal measure.
The only way to maintain a semblance of sanity as a founder is to learn patience.
But be patient, that may take a while.
Learn podcasting
in your own time
Listen to the
free podcast
The free, thrice-weekly show that brings you podcast education, industry insights & straight-talking reactions to podcasting news. This short-form show typically runs for between 7 and 15 minutes and releases every Monday, Wednesday and Friday. Usually a solo show, every now and then, the show features expert podcast industry guests and release bonus episodes as the podcast industry continues to grow and develop.