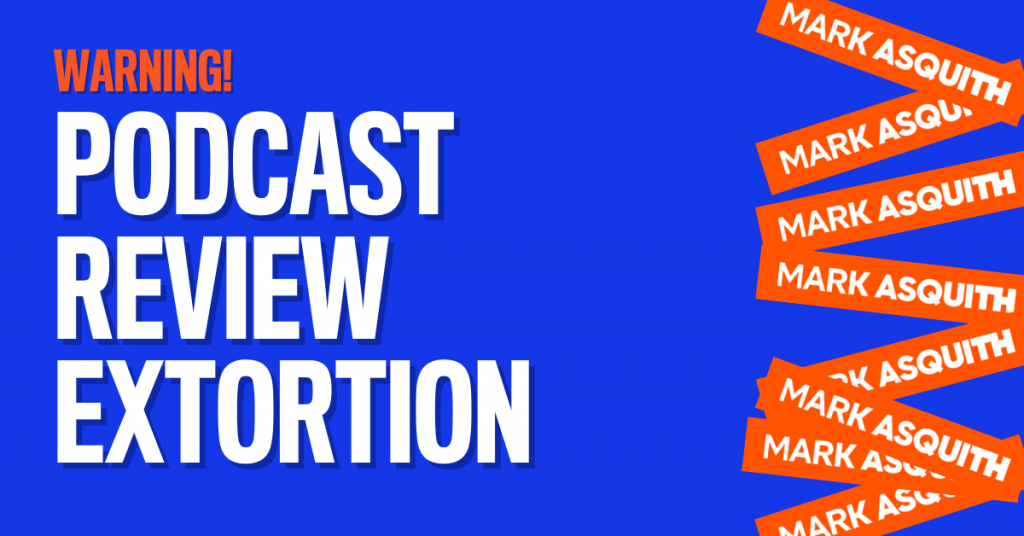 Warning: Podcast Review Extortion
This is not a marketing or opinion piece, this is a piece that all podcasters need to read and I encourage that you share this, even if you don't want to share a link to our website – copy and paste the text, remove our links and give it to podcasters that you know – it's important.
Every morning I log in to LinkedIn and I'm faced with a barrage of "podcast promoters" trying to connect with me.
As many of us can, I can spot the hallmarks of a "fake" promoter instantly:
Weird job title – something like "Podcast promoter at X" or "Podcaster for Y".
An Instagram style profile photo, usually selfie style or an overly corporate looking headshot or a terrible podcast-oriented graphic design
Barely any profile history
A connection request completely unrelated to podcast growth
What tends to happen next is that you agree to connect on LinkedIn with these people and they almost instantly hit you with a message like this (this is one I actually received):

This has been going on for a while now, I know, but this week our Head of Podcast Relations, James Marriott, received a worrying support request from one of our podcasters asking for advice – it seems that the scam has escalated.
The podcaster had received a similar message, this time on Instagram, and what started as a mere request rapidly escalated into attempted extortion.
Here's how James wrote it up:
Our podcaster was approached on Instagram by "Mysha" who claimed to be a fan of the show and was offering to help it grow. Mysha claimed to be a 'podcasting expert' who had helped multiple podcasts.
Our podcaster, intrigued at the offer, simply replied to indicate an interest in finding out more about the, apparently legitimate, consulting style service.
A few days later, with no further contact in-between, Mysha got back in touch claiming to have done promotional work for the podcast and began aggressively requesting $800 payment.
No agreement had even been discussed, let alone signed.
No proof of any work was provided, sadly things took an unpleasant turn when the podcaster, obviously, refused to pay.
Upon refusal to pay for "work" that was never agreed, Mysha threatened to use his "network" to flood the podcaster's podcast with negative, 1-star reviews across all of the directories, including Apple Podcasts, and cause other problems, alluding to actions such as being able to "ban" the podcast in Apple Podcasts – which of course wouldn't be doable directly but may include reporting the show for violations that don't exist, etc.
The original Instagram account has now been deleted and Mysha has vanished, although this has all the hallmarks of a scamming tactic likely to become widespread very quickly.
Please share this with as many podcasters as you can and report the social accounts of anyone approaching you with such an offer that meets any of the criteria above or feels illegitimate. Furthermore, it's best not to engage with people offering this kind of service, just in case.
If you want to grow your show, do it the right way. I wrote a podcast marketing tutorial about this and there's the free Podcast Success Academy, too.
Feel free to delete that part if you share this on social by copying and pasting, I'd rather as many podcasters as possible know about this.
Stay frosty, folks.
Mark
Learn podcasting
in your own time
Listen to the
free podcast
The free, thrice-weekly show that brings you podcast education, industry insights & straight-talking reactions to podcasting news. This short-form show typically runs for between 7 and 15 minutes and releases every Monday, Wednesday and Friday. Usually a solo show, every now and then, the show features expert podcast industry guests and release bonus episodes as the podcast industry continues to grow and develop.